Chanel vintage jumbo classic flap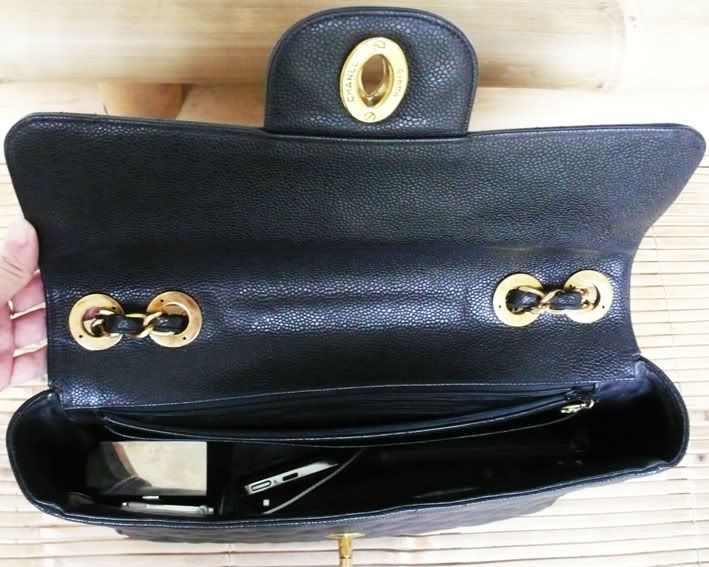 size : 12" x 8" x 3.5"
chain strap when doubled 30"
i got this bag few years ago in used condition for a very good price considering the price of new classic flap are increasing every year and i choose to get this one instead of the latest classic flap because i don't like the more curvy shape of the new flaps
i've been using this bag on and off, but for this "bag
drive
" feature, i use this for a whole week non-stop to feel it more and give a right review.
about the bag :
it's a vintage Chanel classic flap , from the hologram sticker it dated back to 1997 and after more than a decade, this bag still is very pretty.
there's tarnishing on the metal that is considered a flaw to most people, but to me it'll only gives the bag more characteristic
i heard some people complained on the quality of new classic flaps, but
leather :
the leather is perfect for me, black caviar skin, very thick and durable. i don't need to worry when i toss this bag around, and yes, i'm a bag abuser
hardware
:
the chain straps are heavy, but i wouldn't exchange them to a lighter metal material, i like it the way it is, the weight makes the bag stay on my shoulder. Although when i fill the bag full, it'll weight a lot and hurt my shoulder if it hang there for hours non stop (which doesn't really happen a lot)
compartments :
there's an outer compartment on the back side of the bag that i use to put small changes or papers for easy access, but it's limited to place flat pieces only
inside there's 1 zipper compartment and an open one. still limited to flat pieces
it's not easy to take out things from the flat compartment, that's why i don't put coins there anymore, to me it's a place for papers or receipts
what i can fit in there :
right now i'm carrying one 230 pages novel, 1 long wallet, 1 balenciaga coin purse for powder and blush, ysl cigarette holder, blackberry, ipod, keys and i can still fit few more small items if i want
durability :
this is one bag i can comfortably toss around without worrying a thing
where i wear this bag :
i can take this bag anywhere i want to... mmm but i won't take this on summer vacation on broad daylight, the chain strap will burn my shoulder hahaha
but honestly this bag can be brought everywhere, i wear it with jeans tee and sneakers for casual shopping, i wear it with summer dress and sandal, i wear it with formal little black dress and heels.
i can wear frock and gowns and it looks feminine
i can wear jeans and leather boots and it rocks
i can wear with slouchy tees, shorts and sandals and it still make me look dressed up
after one week :
i love this bag more and more, truly one of the easiest bag to match with any outfit but there are times when the bag becomes a burden on my shoulder, like when i go shopping that took hours browsing shops non stop so i switch from right to left shoulders and vice versa at times.
verdict :
this bag is totally worth every penny
it can be worn in so many occasions for so many years to come
a Chanel classic flap is a good investment for every women, doesn't matter if they're the latest or vintage
click
here
for feature of Chanel classic flap and reissues on bagcraze blog